DETAIL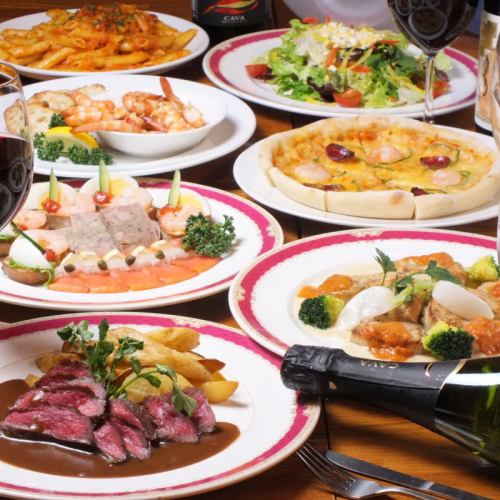 1 most popular 【Captain Standard Course】 7 items of great satisfaction + all-you-can-drink all-you-can-eat ⇒ 4500 yen
By using a coupon4500 yen
7items

4

~

80persons

All-you-can-drink available

The Malt, you can drink all you can with wine.More than 30 kinds of drinks are all you can drink.
1 most popular 【Captain Standard Course】 It will be prepared at 4500 yen with all 7 items of great satisfaction + all-you-can-drink all-you-can-eat.
Menu
~ Meal ~
[Appetizer]
The finest salmon, raw ham, 3 varieties of luxury of putty campagne
【salad】
Italian-style onion green salad
【Heated】
Spicy Nacho sou Boronese
【fish dishes】
Japanese style sawy of mackerel
【Meat dish】
Superb steak of beef red meat
【meal】
Arrabiata
[Pizza]
Mix pizza
~ Drinks ~
Beer / cocktail 70 species / sour / whiskey / high ball /
Wine (red · white) / All you can drink soft drinks!
* Please consult us when there is a demand for sake, shochu etc.
All-you-can-drink menu
·beer
· The Malts
·Whisky
· High Ball, Cork High, Ginger High Ball, Water Round, Rock
·gin
· Gin tonic, Jim bag, Jin Ricky
·vodka
· Moscommeureur, screwdriver, vodka tonic
Lam
· Rum coke, rum back, ram tonic
Cassis
Cassis orange, black currant soda, Cassis Oolong
Peach
· Fuzzy Negble, Reggae Punch
Campari
· Campari soda
- Mojito
- Mojito
- Zhuhai
· Lemon Sour, Grapefruit Sour, Lime Sour, Oolong High
·Soft drink
· Cola, Gingeraire, Orange juice, Oolong tea

Reservation deadline

Visit of hope the day before until 23:00
Coupon that can be used
【Course Limited】 Secretary-sama 1 person free coupon

Presentation conditions

Please show coupon whenever accounting time

Conditions of use

8 people or more / different tickets / services can not be used together / required Please present coupons when booking treasure.I can not do discount correspondence after accounting.

Expiration date

Until the end of May, 2018
2018/03/28 update