DETAIL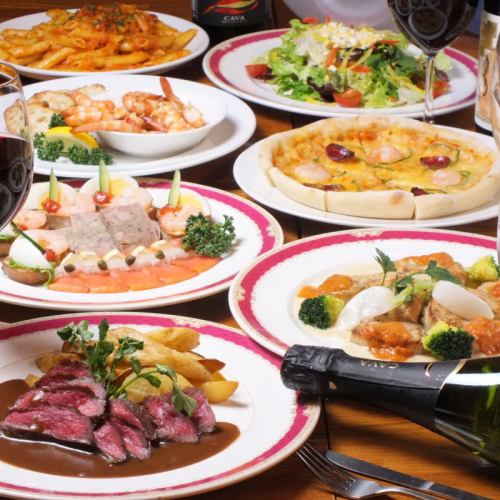 【Chef sticky meat × fish course】 6 main items to choose from + 3 hours with all you can drink ⇒ 4000 yen
By using a coupon4000 yen
6items

4

~

80persons

All-you-can-drink available

The Malt, you can drink all you can with wine.More than 30 kinds of drinks are all you can drink.
Our shop chef will be the course of fish × fish using the ingredients carefully selected!
Menu
~ Meal ~
[Appetizer]
Assorted salmon and raw ham platter
【salad】
Italian style onion green salad with special dressing
【Meat dish】
Boiled pork belly
【fish dishes】
Fisherman-like sauteed of Pinocchio mug
【meal】
Peperoncino Arabiata
[Pizza]
Mix pizza
~ Drinks ~
Beer / cocktail / sour / whiskey / highball /
Wine (red · white) / All you can drink soft drinks!
※ Please contact us if there is a demand for sake, shochu etc etc!
All-you-can-drink menu
·beer
· The Malts
·Whisky
· High Ball, Cork High, Ginger High Ball, Water Round, Rock
·gin
· Gin tonic, Jim bag, Jin Ricky
·vodka
· Moscommeureur, screwdriver, vodka tonic
Lam
· Rum coke, rum back, ram tonic
Cassis
Cassis orange, black currant soda, Cassis Oolong
Peach
· Fuzzy Negble, Reggae Punch
Campari
· Campari soda
- Mojito
- Mojito
- Zhuhai
· Lemon Sour, Grapefruit Sour, Lime Sour, Oolong High
·Soft drink
· Cola, Gingeraire, Orange juice, Oolong tea

Reservation deadline

Visit of hope the day before until 23:00
Coupon that can be used
【Course Limited】 Secretary-sama 1 person free coupon

Presentation conditions

Please show coupon whenever accounting time

Conditions of use

8 people or more / different tickets / services can not be used together / required Please present coupons when booking treasure.I can not do discount correspondence after accounting.

Expiration date

Until the end of May, 2018
2018/03/28 update